Hip, Health, Hope, and Housing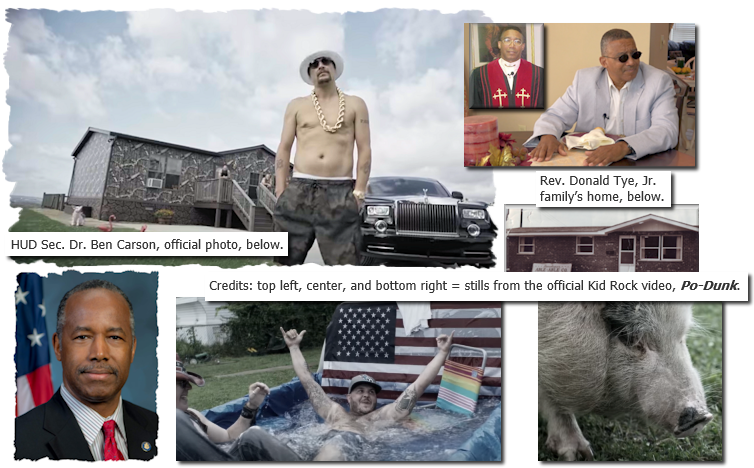 Will millionaire manufactured home owner Kid Rock make manufactured housing hip for the masses?
Hip, Health, Hope, and Housing – Kid Rock, Rev. Donald Tye ,Jr. and related news.
Actively-retired black minister, addiction counselor, and businessman Donald Tye Jr. explained to MHLivingNews the connections between respect, home ownership, hope, and economic advancement.
It was in that context that publisher L. A. 'Tony' Kovach says he first watched Kid Rock's new music video, Po-Dunk.
HUD Secretary, Dr. Ben Carson, has spoken about the health and housing connection. Carson notes the average home owner has $200,000 net worth. Typical renters? $5,000.
Kid Rock's net worth is reportedly some $80 million. He sold a mansion. He owns a multi-sectional manufactured home – which alongside his Rolls Royce, and jet – are featured in Po-Dunk.
Rock – a.k.a. Robert James Ritchie – uses salty language and imagery in Po-Dunk.
The video juxtaposes a pig with the grimy faces of poor whites and blacks. "My English professor would be impressed with the literary devices, and powerful storytelling," said trade publisher Kovach.
"The video depicts the 'grungy poor' in Kid Rock's video as Bible-loving, flag-waving, gun-toting, honky-tonkin' Americans. In the background are older rustic houses, and older single-section manufactured homes," Kovach said Tye explained.
Tye and Kovach recently issued a joint statement of hope and healing that condemned racism.
Tye explained to Kovach that Po-Dunk celebrates those workers that make America gritty, and great.
Tye raised his family in a factory-built home purchased in the early 1970s. It's in a mixed neighborhood, with conventional houses. Dozens of each type of housing appreciated side-by-side. Per Zillow, Tye states that their home is worth some 400% of its original selling price.
"Reverend Tye asked my wife and I over breakfast, "what can someone earning $15 hourly afford to buy? A manufactured home," he stated." The minister calls himself a manufactured home advocate, and hopes that Kid Rock will elevate the growing needs through his potential campaign.
Old racial stereotypes of blacks, Tye says, are as foolish as calling a manufactured home "the t-word." Each prejudice are readily disproven.
Tye says high-rise "warehousing tenements" cost taxpayers; yielding drugs, and despair.
By contrast, the actively retired minister says homeowners pay taxes, "have hope, integrity." He says it's the obvious solution to the growing affordable housing crisis. Billionaries are among those who own a manufactured home of their own.
Mansions, millionaire, muddy Americans. Will Kid Rock's looming U.S. Senate run elevate manufactured homes, making their owners hip? That's what the report on MHLivingNews explores, see the Po-Dunk video and report at this link here. ##
About LifeStyle Factory Homes, LLC – DBA MHLivingNews and MHProNews.
MHLivingNews.com and MHProNews.com are the leading trade publications for consumers, manufactured homeowners, MH industry leaders, investors and public policy professionals who want up-to-date lifestyle and business news.
Contact Detail:
Company Name: MHLivingNews.com
Contact Person: L.A.'Tony' Kovach
Email: tony@mhmsm.com
Phone No: 8632134090
Address: 4210 Arietta Lane
City: Lakeland
State: Florida
Country: United States
Website: http://manufacturedhomelivingnews.com/


Source: www.PRExhibition.com