Why Every Golfer Needs a Pair of Polarized Glasses?


03/07/2023- Middlesex, NJ: There's no need to struggle with your vision when you're out on the green playing a round of golf. You want to focus on your game more than whether you're able to see where your golf ball went.
In addition, lighting can shift throughout the day and cause glare, meaning you don't want to cause unnecessary eye strain or fatigue. Another issue is the UV rays from the sun all day which can cause long-term eye damage without the right type of protection.
Don't worry; plenty of solutions are available, especially at RX-Safety, which has some of the best glasses for golf out there. Yet what makes the best golf sunglasses? First and foremost, golf glasses will typically have a polarized lens. Polarized lenses are a must for golf glasses as they will immediately reduce that glare mentioned above and that haze we may see from time to time on the golf course.
With clarity down range, different polarized colors may work better out there. If you're looking for golf sunglasses that are the best golf glasses, you'll want to consider brown lenses when possible. It helps to pop out that golf ball due to the contrast of the color against the green or sandy backgrounds.
Yet keep in mind any type of polarized pair of golf glasses is better than no sunglasses at all.
Nike Maverick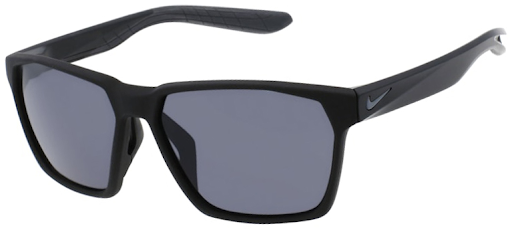 These are great golf sunglasses to wear all day long and come in various polarized lens options. The best choice for your golfing needs again will be with polarized lenses, as that's heading back to what is best on the course. Beyond the options for lens coloring, the nose bridge itself is ventilated to help reduce and eliminate fogging, helping to ensure clarity. The temple arms taper off, making them perfect to put under a hat, which will protect the top of your head. In addition, you can get the Nike Maverick with a prescription as well.
Nike Valiant

Another contender for one of the best glasses for golf is the Valiant. These come with a durable plastic construction in a 6-base curved frame for a more secure fit as well as blocking out light on the sides.
They also come with a texture on the temple bars to support that better fit. Many styles are available, from classic black with standard lenses to polarized options perfect for golfing. These are also a perfect unisex option suited best for medium-sized heads. Also, these are available with a prescription as well.
Oakley Latch Beta Sunglasses

The final option we have here are the Latch Beta sunglasses. Due to Oakley's three-point fit technology, there are a variety of coloring and lens options as well as an excellent option for prescription sunglasses. The Plutonite® lenses themselves offer High Definition Optics®, which means protection against UVA and UVB rays at 100%. Or you can go with the Prizm™ options that work best against glare and make for a better pair of golf sunglasses.
As always, if you feel as if you need additional information about a lens option or polarization, don't hesitate to reach out to our expert team, who will gladly guide you on your journey to find the best golf sunglasses. If you have any questions, talk to our experts through our chat, e-mail us at service@rx-safety.com, or give us a call at +1 888 245 6638.
About Us:
Rx Safety is an American manufacturer of affordable prescription safety glasses and performance eyewear. A family-owned and operated business, with a state-of-the-art digital ophthalmic lab and the online store providing affordable, top-of-the-line prescription safety glasses, sunglasses, and performance eyewear on the market. All the safety glasses always meet or exceed the ANSI Z87+ standards for high impact, to be safe and secure while working in any kind of hazardous environment. Besides standard safety glasses, we offer a broad selection of prescription shooting and tactical glasses, prescription youth sports glasses, fishing, and motorcycle glasses designed and tested to meet our high standards. As an authorized distributor of Wiley X, Bobster, ESS, and BodySpecs, Rx-Safety.com offers a full line of prescription safety glasses straight from the manufacturer at wholesale prices.
Like us: https://www.facebook.com/RxSafety/
Follow us: https://www.instagram.com/rx_safety/
Subscribe us: https://www.youtube.com/user/RXSafetyVideos/
Retweet us: https://twitter.com/RXSafetyEyewear/
Contact Detail:
Company Name: RX Safety Glasses
Contact Person: Ryan Phillips
Email: Send Email
Address: 123 Lincoln Blvd, Middlesex
State: NJ 08846
Country: United States
Website Url: https://rx-safety.com/


Source: www.PRExhibition.com